u
Click on our Club News for current and past information about Kiwanis Club of Woobdury activities

Click on our Division News for a history of NJ Kiwanis Division Two
Click on our District News for latest NJ Kiwanis District Newsletter
Click on our Key Club News for latest NJ Key Club District 3A Newsletter
Kiwanis International President Elect Art Riley.
Click here for Art Riley Biography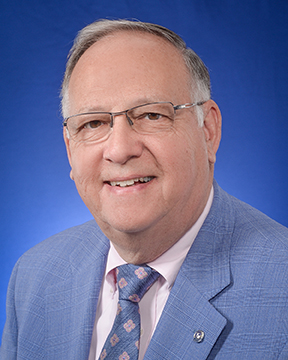 Art Riley, the President-Elect of Kiwanis International visited New Jersey and was the keynote speaker at the Greater Woodbury Kiwanis 97th Charter Night celebration on Nov 21, 2019. The dinner was held at Nicolosi Catering. There was a large group of Kiwanis dignataries on hand, including NJ District Governor and Secretary, Division 2 Lt. Governor, a table of former District Governors, many officers from Woodbury and other New Jersey Kiwanis Clubs, to hear the Keynote speech and greet President-Elect Riley.
COAT DRIVE: Kiwanis is collecting new or gently used coats for distribution to men, woman and children in the
southern NJ region, until January 31, 2020. Drop off location is Morris Graphics 660 N Broad St, Woodbury NJ 08096. (856) 845-4980.
Congratulations to Kiwanis Club of Greater Woodbury President George Wagoner on receiving the 2019 Robert H Weir Award from the ARC Gloucester. Well deserved honor for his many years of dedicated volunteering for this very special organization.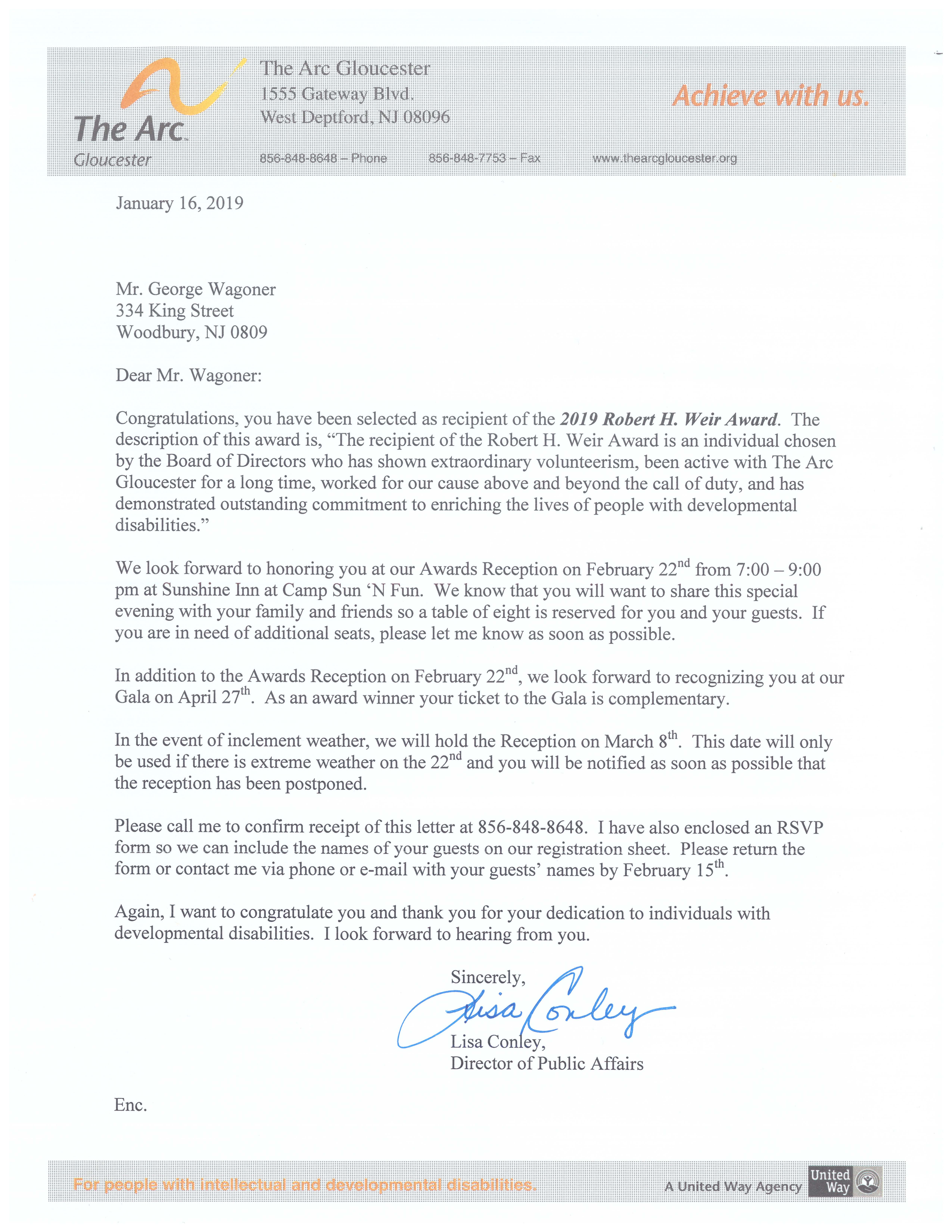 During a recent presentation by LtC Croot Commandant of the Recruiting Brigade covering NJ and the Philly
area, Kiwanis member Newt Weiss a survivor of the Battle of the Bulge in WWII asks a question.
SFC Louque, the Army Recruiter in the Woodbury office looks on. Col Croot addressed the club about changes in the recruiting strategy for meeting the Armys needs for a technology ladden battlefield of the future. It was clear that this is not your grandfathers army. He laid out a very compelling argument for the benefits of military service to possible recruits and how the highly selective recruiting critera yields only an acceptance of 3 for each 10 applicants.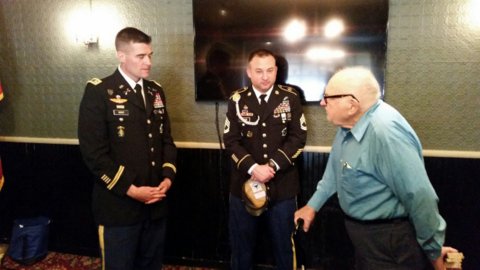 Our Kiwanis Club has been corresponding with the Kiev, Ukraine Kiwanis Club for a couple years, and the South Jersey Times wrote a story about how the Kiev Club has been helping people affected by the war. Read the March 1, 2015 story here:
Kiwanis Club of Kiev Ukraine
Jennifer Williams of Covenant House New Jersey, spoke to our Club on January 28, 2016. Shown below with President Jim Meehan, Ms. Williams told us the mission of Covenant House and how they help homeless young adults get off the streets and on a path to a more positive future.

Jim Meehan and Jennifer Williams
Three Woodbury Kiwanis members traveled to Aberdeen, NJ on March 18, 2014 to
attend a dinner with Kiwanis International President Gunter Gasser from Austria.
Pitchured below are Jim Meeham, Woodbury Kiwanis President, Gunter Gasser,
Kiwanis International President, Joan Van Note, Lt. Governor elect and Jeff Morris,
past Kiwanis Lt. Governor.
Kevin Kavanaugh, Vice President of RPM Developent Group, spoke to the Kiwanis Club of Greater Woodbury on January 30, 2014. RPM is the developer of the GG Green Building in downtown Woodbury. They transformed a boarded up run down facility into one of the premier spots in the city.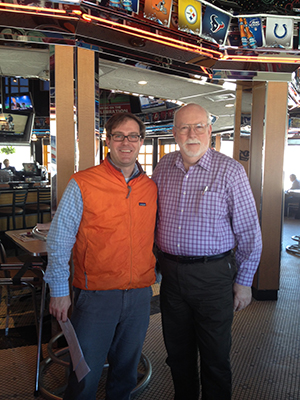 RPM's Kevin Kavanaugh and Kiwanis President Jim Meehan
The Kiwanis Club of Greater Woodbury and the Kiwanis Club of the Haddons celebrated
our 90th year Charter together at Tavistock Country Club on October 25, 2013.
Check out the story written by Bob Shryock of the South Jersey Times by clicking on the photo below: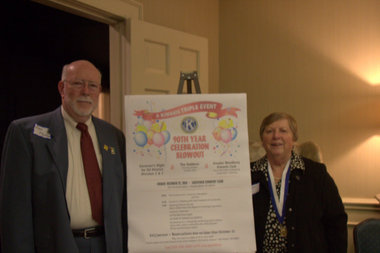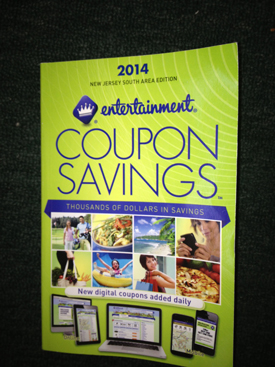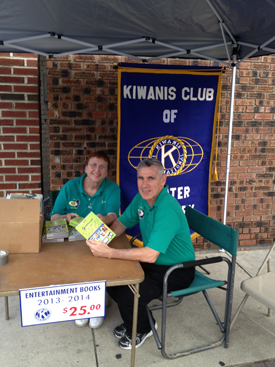 Please consider purchasing an Entertainment Book from The Greater Woodbury Kiwanis Club
Everyone loves to get products and services at a discount, especially when you can contribute to community service at the same time. The Kiwanis Club of Greater Woodbury is partnering with Entertainment Books to offer deals both locally and all across the country. No longer limited to just hard-copy coupons, a book purchase enables smart phone users to put an application on their phones to get electronic coupons sorted by proximity to the user's location as well as type of deal sought. Thus, purchase of a South Jersey (or any other area) book enables the owner to take advantage electronically of offers in other areas across the country as well. Deals include travel-related services such as rental cars, airline tickets, cruises and hotels as well as fine dining, casual restaurants, retail products and services.
Even the books are discounted this year for only $25 per book, which offers potential deals that could save the owner hundreds of dollars or even more. These books make great gifts and can be ordered for many cities around the country from the Woodbury Kiwanis. Local area books (South Jersey and Philadelphia) are available from any Woodbury Kiwanian, or by calling Jim at 703-237-2715. Orders for the 2014 book for other cities (usable immediately) may be placed at any time before the end of November. The effort is part of the Kiwanis annual fund raising program to support a variety of youth and community programs in our area; information about the specific programs is available at www.kiwaniswoodburynj.com.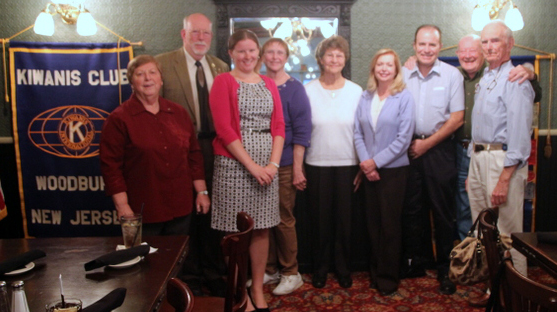 Installation of 2013-2014 Officers of the Greater Woodbury Kiwanis Club
L to R) Betty Limanni, Club Secretary; Jim Meehan, President; Kaitlan McCann, Division 2 Lt. Governor
Joan Van Note, Board Member; Claire Essig, Board Member; Carol Stahler, Board Member;
Rich Stahler, Immediate Past President; Tony Currier, Treasurer; Ed Barry, Board Member.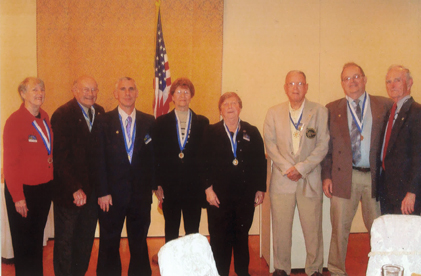 At our November 1, 2012 Charter Night, Betty Limanni was awarded
the Kiwanis Hixon Award. She is joined by past Hixon Award winners.
Left to Right: Connie Wagoner, Tony Currier, Jeff Morris, Claire Essig,
Betty Limanni, Howard Ballinger Jr., George Wagoner and Ed Barry.

Past Hixon Award winners not in photo include Dora Brown,
Jim Kelleher, Jane Moffet and Kathleen O'Connor.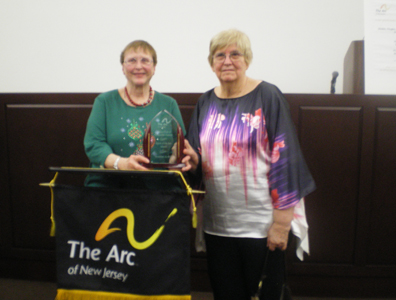 Joan Van Note and Amelia Kressler, advisors of the new Aktion Club of Gloucester County, accepted the Spirit of Arc Award for the Greater Woodbury Kiwanis Club on December 10, 2012.
Kiwanis Table at Mayors Prayer Breakfast 12-05-12 Aulettos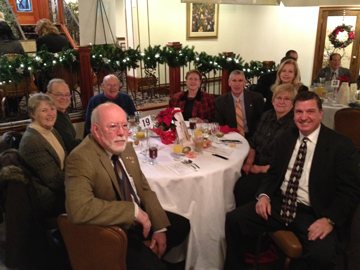 Kiwanis members join about 300 others at the 2012 YMCA Mayor's Prayer Breakfast December 5, 2012.
Included are Jim Meehan, Connie Wagoner, George Wagoner, Tony Currier, Joan Van Note,
Jeff Morris, Carol Stahler, Amelia Kressler, and Robert Taylor, Executive Director of the Boys & Girls
Clubs of Gloucester County.
On July 12, 2012 at Scotland Run Park, the Kiwanis Club of Greater Woodbury helped the Kiwanis AKtion Club of Gloucester County celebrate their Charter night. The club was formed by the tireless efforts of members of the Kiwanis Club of Greater Woodbury, the Arc Gloucester and thanks to the financial grant provided by Wal-Mart. Photo below shows Freeholder Larry Wallace, the evening's Keynote speaker, speaking to the gathered crowd. Wallace also presented AKtion Club President Dorian Davis with a Freeholder Proclamation.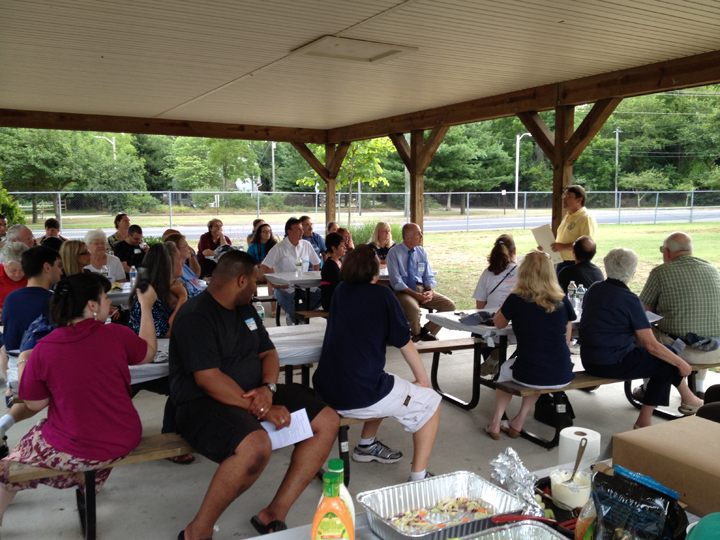 Members of the Kiwanis Club of Woodbury laid a wreath at Memorial Day Ceremonies at the WWII Memorial Site in Woodbury on May 28, 2012.

Included in photo (l to r) are Ed Strom, Claire Essig, George Wagoner, Jeff Morris, Amelia Kressler,  Betty Limanni. Jim Meehan, Connie Wagoner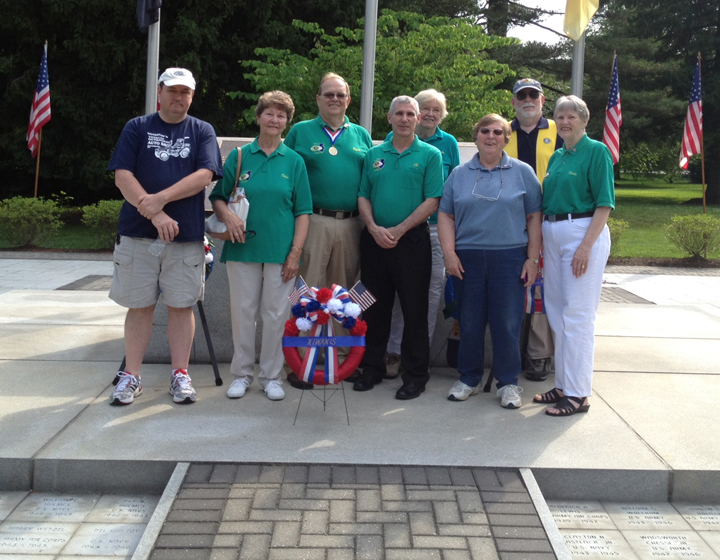 The Volunteer Center of Gloucester County held their 1st Annual "Spirit of Community" celebration on October 27, 2011 at Masso Caterers in Glassboro. Our Greater Woodbury Club was privileged to have Claire Essig, Betty Limanni, Jeff Morris, Joan Van Note, Connie and George Wagoner receive the President's Lifetime Volunteer Service Award for service to their communities. They were presented certificates signed by President Obama, Senate President Steve Sweeney, Congressman Rob Andrews and others. Congratulations to all and thank you for your service.

THANK YOU to all who helped with the Woodbury Community Cocktail Party on June 8, 2011. Proceeds benefited the opening of a Woodbury Unit of the Boys & Girls Clubs of Gloucester County. The event was supported by 150 business and community leaders from throughout the greater Woodbury region. John Michael Paz, founder of Godwin Pumps, was honored as Boys & Girls Clubs Citizen of the Year.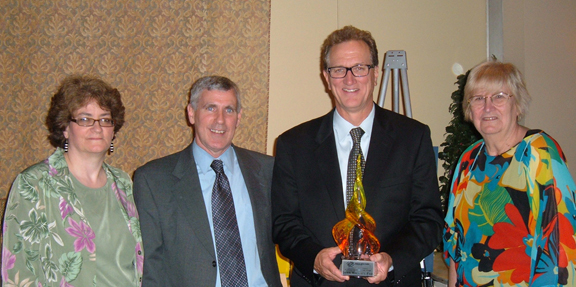 Award Presentation June 8, 2011. Theresa & Jeff Morris, Morris Graphics Inc., Co-Chairs of the event,
John Michael Paz Boys & Girls Clubs 2011 Citizen of the Year, and Amelia Kressler, Interim Chair,
Woodbury Unit Community Committee
Site design and hosting compliments of Morris Graphics Inc.